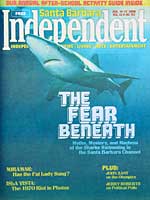 Chris Messner
GREETINGS FROM CUBA:
Thursday, August 14, 2008 By Indy Staff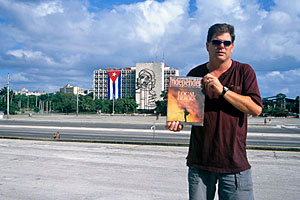 Ever since we reviewed his work last year (see independent.com/messner), Santa Barbara photographer Chris Messner has been on our radar. A family man and devoted Indy reader, Messner has owned and operated a landscape design company in Goleta for 25 years, and only got interested in photography in the late '90s. "I stumbled upon it by accident," he told us. Now he's retiring to devote himself full-time to his art. Messner recently returned from Cuba, where as part of a research delegation he had unrestricted access to the country. Many of the resulting images are now on display at the Public Library's Faulkner Gallery through August 31. The photo above shows Messner standing with a copy of The Indy in Havana's Plaza de la Revolución on the exact spot where Castro stood to deliver many of his speeches. "After I had my picture taken, I gave the copy of The Independent to some of the local people who were very happy and intrigued to check it out," Messner told us. "They really wanted to see what was going on in the outside world." To see more of Messner's work, click here or visit his Web site, cmpictures.com.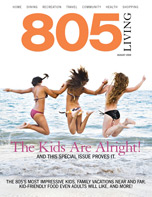 805 Living Magazine
August 2008 Issue
Through August 30: IN THE FOOTSTEPS OF HEMINGWAY
Faulkner East Gallery, Santa Barbara Public Library. Renowned photographer Chris Messner presents photos from his recent expedition to Cuba. His images capture the country's colorful character, beauty, and spirit, providing a window into the enigmatic land that was a favorite of Ernest Hemingway. For more information call 805-967-5662 or go to www.cmpictures.com.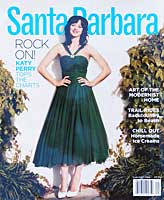 Santa Barbara Magazine
Aug/Sept 2008 Issue
ART SCENE
August 1-30: Inspired by Ernest Hemingway's love for Cuba, photographer Chris Messner shares images from recent trips to the country at "In the Footstops of Hemingway". Some photos in the exhibition capture the beauty, life, and people of the country, emphasizing its pride and generosity. Others reveal architecture, old cars, and sites of historical significance. Don't miss the artist reception on August 7 at 5PM Faulkner Gallery, Mon-Thurs 10AM-9PM, Fri- Sat 10AM-5:30PM and Sun 1-5PM. Free, 805-967-5662, www.cmpictures.com.