Our man in Havana
Chris Messner gets a close look at Castro's island
By Martha Lannan
Voice Community Editor
Chris Messner wasn't surprised to see guards with machine guns when he stepped off the plane in Cuba recently, but much of the rest of his trip was filled with the unexpected. "It was like being in a time capsule," Messner said. "We think of the Cuban Revolution as something that happened in 1959," he said. "But they live it every day in terms of the results, like shortages of goods because of trade embargoes, former palaces that are now museums, granite walls with bullet holes still in them, and so on," he said.
Messner traveled to the Caribbean island with an organization called Global Exchange, which organizes what it calls "reality tours," particularly research delegations, to a number of countries around the world.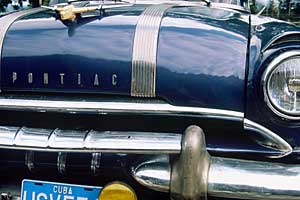 Much of Cuba looks unchanged since 1959, when Fidel Castro seized power. American cars from the '50's, like the Pontiac at right, are a familiar sight on the streets.
Messner, who is a member of Goleta's Design Review Board, traveled with three other Americans focused on community development, particularly agriculture and sustainability. He is also a landscape designer and contractor, and fine art photographer.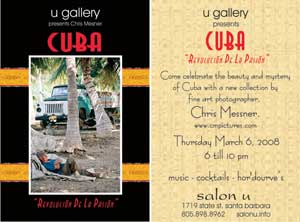 An exhibit of photographs he took in his nearly two weeks in the country, "Revolución De La Pasión," opened Thursday night at U gallery, 1719 State St.
Messner's visa allowed him more latitude in the country than a tourist visa would have, he said. He wasn't limited to tourist attractions, main streets, museums or tour bus routes. Individual members of the group had time to themselves to explore Havana and outlying areas.
Messner spent quite a while in the western part of Cuba where there are farms and ranches, and visited schools there, too. Quite a few of the farms are organic now, he said, because following the pull-out of the Soviet Union, chemical pesticides are no longer provided and the local ranchers and farmers are turning to other, less expensive ways of dealing with pests and plant disease.
In conversation with the country's minister of agriculture, Messner learned that the country's ag industry was hurt by the Russians' leaving, but farmers are coping and learning new ways of doing things, like using fine screens to protect crops from pests.
While he was in the more rural parts of the country, the people, who were very friendly, often wanted to talk about American foreign policy, said Messner. In the city, however, people seemed more focused on their immediate task at hand: whatever they were selling or doing, and often very aggressively.
Messner's guide talked about housing and planning with him, and criticized high density housing proposed for the Havana area. He also told Messner that he makes his two daughters speak only English at home because they will have a better future and higher incomes as adults if they speak good English.
Did the people talk about Fidel? They did, Messner said, but not in dramatic terms, or of his illness, but like someone they looked up to like a father. "He's all they've known," he said.
Havana's traffic was "somewhat free-form," according to Messner, and it took him a while to get used to seeing people downtown and near the beaches standing in traffic lanes, as cars whizzed by, hoping to get a ride.
In the capitol and the countryside, American cars from the '50s were common, as well as old Russian cars, and it was clear, he said, that people there have learned how to "stretch and conserve whatever they have," making them resourceful and inventive. Solar energy use is common, with installations in schools, clinics, businesses and homes, and sugar cane biomass is used on a large scale to produce ethanol.
Messner didn't see any thing that looked like supermarkets on his trip, but there were many colorful small markets in a variety of neighborhoods.
When he went to send an e-mail home, said Messner, he learned that the country had only dial-up access, and the hotel around the corner from his charged $10 per half hour for internet access. "It was very exciting to learn all kinds of new things on the trip," he said, "and I enjoyed the lack of pretense I found in the people."
Messner will be returning to Cuba in late spring, this time on a trip focusing on architecture and urban planning.